First topic message reminder :
Alright. So this exact thread was originally located in my hometown forum, Nightmare, but people didn't really seem to want my spriting services, at least for now, and I was tired of constantly advertising myself. If you want a sprite, please post in this thread or contact me in the chatbox, I am usually on at about 2-3, my time, so about 1 hour each day, bar Thursdays, when I have Jazz.
Basically, I'm offering custom pokemon sprite changes such as the ones below:
1. Recolor: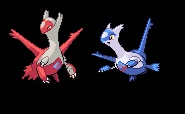 Basically, this is Latias recolored as latios and vice versa. If you want one of these, tell me what color to recolor it or what pokemon to recolor it as.
ex: Umbreon/Pink or Umbreon/Gorebyss
2. Inferno: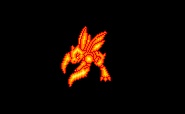 Yes, I know, scyther should never be infernoed, and this one is just plain bad, but I have to use this one until I get my laptop back and get the other nicer ones. This is basically progressively lighter shades of a color inside the outline of a pokemon. Because this needs lighter colours, I may not be able to do things such as a yellow inferno. This is a red inferno.
ex: jiggypuff/green inferno
3. Disguise:

This is Jolteon disguised as Umbreon. The difference between recolors and disguises is that a recolor is simply to change the color of a pokemon and disguises are to make one pokemon look like another. The recolor may need for parts of the other pokemon to be grafted onto another. Please tell me which pokemon is the being disguised as the other one. These are tricky, so I may not do it correctly.
ex. Gorebyss disguised as Huntail
4. Invert:
This is a pokemon with all of its colors reversed, bar the outline. Something like is not an invert. Please tell me what pokemon you would like inverted.
ex. Snorlax inverted
4. Fusion
(made for reshiram)

This is a combination of reshiram and zekrom combined. Zekrom is the base of this, and is colored to reshiram. These are fun, but sometimes do not turn out correctly. A fusion is a combination of two pokemon. Please tell me which pokemon you want me to combine.
ex: Mew/Celebi/Darkrai
I can also add words to them. If you don't like m standard black background, please tell me and I will put something else, such as a forest or a building, into the sprite on request.
If you would like more examples, I have many more on this thread:
http://nightmare.forumotions.net/t409-custom-pokemon-sprites#1764
Please P0st!
--EpicNinjaBear